Are Toy Labels an Indication of Quality?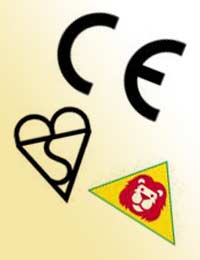 We're always told to look out for toy labels and toy safety marks on the toys that we buy for our children, but are they actually any indication of quality toys, or just a gimmick?
What Toy Labels Can You Expect To Find on Toys?
The main toy label that you should definitely see on all toys you buy your children is a CE Mark. This toy safety mark is not for public consumption, but is in fact an indication to the authorities involved with toy safety (such as trading standards enforcement officers) that the toy conforms to all the safety requirements it has to reach before it can be allowed to be sold in the EU.
Toy regulations state that all toys supplied in the UK have to conform to the requirements of the Toys (Safety) Regulations 1995 and bear the CE marking and the name and address of the person who first placed the toy on the market.
The CE Mark on a toy label simply means that the manufacturer or his authorised representative is declaring that the toy meets all of the essential safety requirements applicable to them under the toy regulations. It's no indicator of quality at all.That said, if the toy you are about to buy doesn't have a CE Mark on it, it may well not have passed the stringent safety requirements, and so it's better left in the shop.
Other toy labels that you might come across are the 'grumpy baby' logo – which indicates that a toy is not suitable for a child under the age of three. Again, this isn't any indicator of the quality of that toy, good or bad, but just shows that it has not passed the choke test and may have small parts that render it unsuitable for small children.
Is There a Toy Safety Mark That's Only On Good Quality Toys?
The most helpful toy label or toy safety mark as far as quality is concerned is the Lion Mark. The Lion Mark is a symbol which was developed in 1988 by the British Toy & Hobby Association (BTHA) to be used as an indicator of toy safety and quality- which the CE Mark isn't.
The Lion Mark on a toy label can only be used by manufacturers and retailers who are members of the BTHA, although many of the major international and European companies are members too, and so are entitled to display this toy label. It's estimated that around 95% of all the toys supplied in the UK are made by BTHA Members.
If a toy is displaying a Lion Mark, it means that the supplier has signed a very strict Code of Practice, which, as well as covering toy safety issues, expects members to practice high standards of ethics. So, out of all of the toy safety marks that you might find on a toy label, the best one to give you some reassurance about quality and safety from the parent's point of view would be the Lion Mark – as it was designed to help people to pick the safest and best quality toys for their children in what had become a minefield of conflicting information and cheap imports.
More Than Just a Lion Mark?
The British Association of Toy Retailers (TRA) wanted to add to the Lion Mark on toy labels, and in 1991, they joined forces with the BTHA and adapted the Lion Mark so that it could be displayed by reputable toy retailers to show that all of the toys on sale in their shop meet the same standard of safety as those displaying a Lion Mark on a toy label.
If you see the Toy Safety First logo displayed in a toy shop, website or a catalogue, it means that the retailer has agreed to the Code of Practice and will make every effort to only offer safe toys for sale, and also to make sure that staff know all about the different toy safety marks, toy labels and age warnings.
If you're looking for toy quality, don't just rely on the CE Mark on the toy label, make sure there is a Lion Mark too, and get the best toy safety for your children!
TOYS ADVICE IS FOR SALE.
This website is for sale [more info].
You might also like...