Washing and Caring for Soft Toys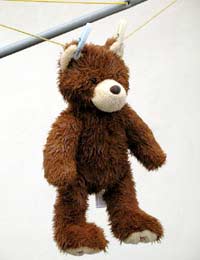 Teddy bears and other soft toys are normally washable thee days, especially those designed for little children and babies. It's normal for soft toys to be chewed, sucked and eaten, so it's important to keep them as clean as possible.
Is it Always Necessary to Machine Wash?
Soft toys do get dirty but there's no need to obsessively keep putting them through the machine after every spillage or drop – they can be kept clean without over use of detergents which could eventually damage them.
You can dust and clean a soft toy – even machine washable plush toys can be cleaned this way by holding some mesh screening over the soft toy and vacuuming it on low power to get rid of toy mites and anything lurking in the toy dust. If you do this carefully, it should keep the toys intact.
Washing Soft Toys in the Machine
If a quick vacuum for dust mites is not enough for this toy, you can put most soft toys (usually labelled as machine washable plush toys) through a machine wash. Always check the care label before washing soft toys in a washing machine, because some delicate and older toys may not be suitable for this sort of washing.
Try washing more delicate items inside a pillow case to preserve any small parts and stop them working loose on the spin cycle. Always wash them on the correct temperature – most machine washable toys will be suitable for washing on a normal wash cycle. Washing soft toys at the usual temperature should be enough to get rid of anything nasty lurking in their fur.
Some toys are suitable for tumble drying but again, check the toy care labels before attempting this. Just brush the fur up when you take the soft toy out of the drier and it should be as good as new.
Will Washing Soft Toys Get Rid of Dust Mites?
The short answer is – not always! Some children can be especially sensitive to the toy mites found in toy dust and bedding – and on toys. House dust mites often thrive on soft toys, so every couple of weeks, put the toys through a hot wash just to be on the safe side, if your child is sensitive or has asthma and allergies.
Another even more effective method of getting rid of mites is to put soft toys in the freezer overnight. It won't get rid of dirt but the mites can't survive this, and then once you've killed them all, take the toys out of the freezer and put any machine washable plush toys straight in the washing machine to wash away any dead mites and their droppings.
Special Considerations for Washing Soft Toys
If you can, check the stuffing of a soft toy before you wash it. Sometimes the inside filling can start to degrade – although this is unlikely with modern toys – and very occasionally the filling can harbour insects or mould. If this happens, all you can do is throw the toy away or have it restuffed.
You might also like...
I have a lovely toy gorilla bought from Hamley's many years ago. My daughter who is a primary school teacher has had him at school for a while and he is in need of a wash.The care label says he is machine washable with a symbol for a 40degree wash that has a number 7 above it does anyone know what the 7 means.
piggy
- 20-May-17 @ 11:31 AM