What is This Toy Safety Mark?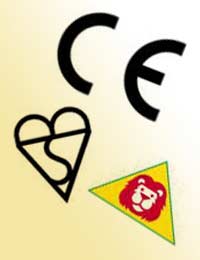 Q.
I have a friend who is doing an NVQ in childcare - she has a question about a symbol which we can't find on the net - it's a triangle with 2 lines (like a z mark) on the right hand side. Underneath it says BSI safety mark.
Do you know what the symbol means?
(K.H, 18 March 2009)
A.
The toy safety symbol that you describe isn't one that I've heard of, and certainly isn't anything that's generally used on toys. There is one official Toy Safety mark, which is designed for manufacturers, importers and toy retailers rather than the general public, and this is the CE Mark which signifies that the toy in question has passed all the necessary compliance tests for toys imported into and manufactured in the EU. All new toys that you buy should display this symbol somewhere.
This toy safety symbol, which should be displayed along with the name and address of the supplier, is legally required to appear on all toys for sale in the European Union. The CE Mark was introduced to ensure that there was a free market for all toys throughout the EU - a bit like a toy passport.
The CE Mark is really meant for Enforcement Authorities like Trading Standards departments, and it doesn't signify quality or safety - which is what many consumers think.
Toy Quality Symbols
The only quality assurance symbols, which are often used alongside the CE Mark, are the Lion Marks which are awarded by the British Toy & Hobby Association (BTHA) to reassure consumers of the toy's safety and quality. To use this mark on a toy, the manufacturer has to be a member of the BTHA. To become a member of the BTHA, and to be able to use the Lion Mark, a supplier has to agree to adhere to a strict code of practice, which, as well as covering issues that relate to toy safety, also places demands on members that relate to ethics in advertising and other trading practices.
There is an associated scheme, just applying to retailers, called the Approved Lion Mark Retailer Scheme.
There are no other official toy safety marks that are generally used by manufacturers, and the symbol that you describe isn't a common one, or indeed one that I'm aware of. The generally used BSI Safety Mark is the standard kitemark symbol, which denotes a product which has been independently tested by the British Standards Institute for safety. This shows that the product conforms to any British Standards which apply to it, and that it should be safe and reliable. There is no legal requirement for toys to display a kitemark, although some do.
There are no other officially recognised safety symbols - although there is a warning symbol which indicates that a toy is not suitable for children under the age of three. It sounds as if the toy symbol you describe may well be a symbol recognised outside of the EU.
You might also like...
Do children's flash cards need to be ce certified?
Hi I've bought a rag doll toy from a seller in China. The doll has labels with the name, address etc of manufacturer & has CE mark as well as lots of code numbers that it says it conforms to. How do I check that this doll is safe to give to my baby granddaughter? There's just something about the doll that is worrying me but I'm not sure what. I'm hoping you can reassure me. Kind regards Nikkinakinokinoo
Nikkinakinokinoo
- 3-Nov-20 @ 11:37 AM
Is a child's backpack designed for a 3-6 year old classified as a toy for the purposes of safety regulation in the UK? It seems to me to fall more under a "fashion accesory which are not for use in play" but I seek confirmation or views on this. Many thanks in advance for any help.
I'm hoping to make mindful rocks to sell and use as part of my yoga for children's business. What toy certification do I need and do all the products I use to make the rocks also need to be CE tested ie glitter, varnish?
lindseylashes
- 22-Oct-20 @ 12:36 PM
Good evening, I am looking at a product concept consisting of learning flash cards for children. Please may I ask whether this would require a CE mark or need testing of any kind before I take it to market? I would really appreciate any guidance. Thank you for your help. Best wishes,
JLB
- 14-May-20 @ 9:06 PM
Hello I have just imported 1000 soft toys from a factory in China.We have sold these for many years but have always bought from a company in the UK and this time i went direct to the manufacturer.The consignment was stopped at the port of arrival and 1 sample was taken for testing.This failed the safety test - ie not suitable for kids under 36 months.I had been assured by the company in China (who specialise in soft toys) that they met EU standards and did not request a certificate or separate test.I wish to know what my options are.Can i have more tested?Will that help?Do I add a label to toys saying "not for sale for under 36 months" or do i ask for my money back? thank you for your advice
Sara
- 9-Jan-20 @ 1:19 PM
Hi,I've written children's books for 2-6 year olds and my latest one is about a dragon sprinking magic dream dust.If I sell or giveaway these with my book do i need labelling.Tiny cork stoppered glass bottle containing coloured sugar, coloured sand or glitter.Approx 4cm x 1.7cm
loulou
- 5-Jan-20 @ 9:39 AM
I want to make children's fairy wands using wooden dowels and glitter foam fabric, would these need to be CE tested or is it adequate to make sure that the buyer knows they are not suitable for children under 3? Thank you in advance.
Tinks
- 20-Nov-19 @ 5:10 PM
I would like to sell reward charts with stickers, the reward charts would be my design. Other products would be flash cards showing different emotions. Are reward charts toys if so what safety measures would I have to go through.
Vixpost
- 17-Sep-19 @ 1:33 PM
Hi Do laminated children's flashcards need to be CE marked? Also, would writing accessories such as felt tips pens and silicone handwriting aids to be used with the above need to be CE compliant? Thanks
Star
- 5-Mar-19 @ 10:01 PM
I am new to all of this,due to redundancy, I intend to turn my hobby into a business. How do I go about getting my toys safety tested? What paperwork do I need to complete?
Nange
- 21-Jan-19 @ 7:30 PM
Hi im thinking of making rag dolls to sell how do I get these safety checked
lesann
- 29-Nov-18 @ 4:54 PM
How do you go about getting a CE mark on a bath toy that is made in China and been safety tested in China?
superfitch
- 18-Jun-18 @ 12:05 PM
EGT - Your Question:
Hi I make Unicorn crown headdresses for children, designed to be used in photo shoots, worn for birthday parties etc? Do these need to be CE tested? Thanks x
---
Our Response:
Yes if they are designed as fancy dress/costumes to be used for birthday parties, they will need to comply with the directives. SeeEN 71-2
ToysAdvice
- 17-Jan-18 @ 2:44 PM
Hi I make Unicorn crown headdresses for children, designed to be used in photo shoots, worn for birthday parties etc? Do these need to be CE tested? Thanks x
EGT
- 15-Jan-18 @ 10:30 AM
I want to start making and selling a sit on oak truck aimed at 3 to 8 year old children. What regulations do I need to have to start production?
Reds
- 6-Apr-17 @ 4:37 PM
I have designed and made out of oak a sit on truck with a seat opening doors and robust wheels. The toy was intended for my grandson to sit on and ride but the reaction from friends and general public has been they all want one . To date I have hand made 5 and sold them . I want to sell them commercially but what standards do I need to do so ?
Reds
- 6-Apr-17 @ 4:33 PM
Hi We sell stunt scooters and skateboards, for ages 7 plus. There is so much confusion on these products in regards to what needs testing and which catagory to go for testing. Can you help with any advice? Thanks
Hi What are the regulations concerning draw string PE/ swim bagsforPrimary school children. Do they need fitting with a quick release breakawaybarrel depending on the length of the cord? if so what is the maximum length the cord can be without the requirement to fit a breakaway. Regards Shirley
Presto
- 14-Jul-16 @ 1:20 PM
Dear Madam or Sir, I hope my message finds you well. My name is Enoch Dickson. I am a Project Manager at babymarkt.de GmbH, a Germane-commerce company specializing in baby and toddler supplies. We are turning to you to request quotation for a legal report on the following issues: 1. Description of Legal guidance/provide advice/complete overview on sale of baby car seats from Germany to the United Kingdom(Northern Ireland, Scotland, England, etc) and the Republic of Ireland customers. Laws/standards/polices we have to follow. 2. Other laws/standards if any which we have to follow while selling our retail category baby- products from Germany to customer in the United Kingdom(Northern Ireland, Scotland, England) and the Republic of Ireland. We are looking forward to receiving your quotations and remain, Thank you,
Enoch
- 14-Apr-14 @ 5:30 PM