The State of Toy Safety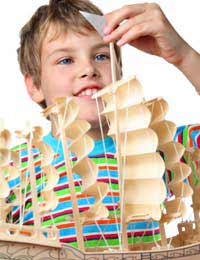 Anyone with a concern about toy safety will be either shocked or relieved to know that dangerous goods were removed from EU shelves in record numbers in the past year. Although the figures are a little worrying, it does prove that toy safety regulations are being enforced – and that toys deemed unsafe for our children are not making their way into bedrooms and toy boxes.
What is RAPEX?
RAPEX is the name for the EU rapid alert system that's in place to tell manufacturers, retailers and the public about dangerous products. The scheme covers all 27 EU member states as well as Iceland, Liechtenstein and Norway. A regulation which came into force in January 2010 extended the remit of RAPEX to cover 'consumer' and 'professional' goods, and added new risks to the list of things to look out for, which included the environment, workplace health and safety and public security.
So, What are The Figures for Toy Safety Issues?
According to reports from RAPEX, there was a seven per cent increase in the number of dangerous consumer products withdrawn from EU markets in 2009 compared to 2008, which was put down to 'more effective market surveillance'.
The executive added that the increase in the number of notifications didn't mean that there were more dangerous goods on the European market, just that unsafe toys and other consumer products were being found earlier and more efficiently than before.
There has been a growth in the number of notifications about unsafe toys and other items in the past six years – and according to the experts, this is more likely to be a result of increased awareness and the importance that's given to product safety issues by national authorities and businesses. The RAPEX report also cites more frequent and effective checks along with joint market surveillance actions carried out by national authorities for the increase in detection of unsafe items.
What's Top of the List of Unsafe Toys?
It seems that Chinese imported toys are the worst culprits when it comes to breaching toy safety regulations. The Commission revealed that it had received a total of 1,993 notifications about dangerous goods last year, up from 1,866 the year before.
60 per cent of the notifications issued related to Chinese-made products – in comparison just 20 per cent related to goods manufactured in the EU. This is a reflection of the fact that around 80 per cent of all the toys sold in Europe actually originate from China.
Toys accounted for 28 per cent of all notifications, while the next biggest group was clothing and textiles at 23 per cent.
The safety issues highlighted across the board included chemical hazards, injuries and choking.
The EU Executive said that they believed there had been progress with respect to the Chinese products which were being imported into Europe, and had been encouraging importers to talk to their manufacturers in China about safety issues.
Where are the Notifications Coming from?
Spain seems to be the EU country that's most vigilant about consumer product safety as they recorded the highest number of notifications at 13 per cent. They were closely followed by Germany and Greece at 11 per cent and nine per cent respectively.
Spain has recently invested more resources in product safety checks and surveillance which explains their position at the top of the toy safety league.
You might also like...