Toy Safety for Older Children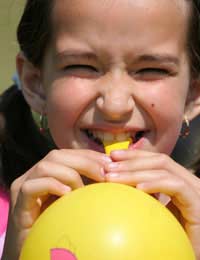 As your child gets older, he or she will undoubtedly start to want more complicated big children's toys, and toys that if not used properly or looked after well could cause injury to themselves, or younger brothers and sisters.
There are very strict regulations that govern toy manufacturers, and in most cases the safety of the children's toys themselves isn't anything to worry about – as long as the toy you buy is appropriately marked.
When you're buying toys for school aged children, just as with babies and small children, you should keep toy safety at the top of your mind. Always ensure that a toy carries a CE and a Lion Mark. The CE Mark simply shows that the toy has passed the relevant toy safety regulations, but the Lion Mark is a sign that the toy is safe and also good quality.
Of course, you'll want to make sure that your child has toys that stimulate learning and development, and that they will enjoy using. So how can you make the right choices when it comes to older children's toys?
All Toys Are Not Meant For All Children
One of the biggest hazards of buying toys for older children is that their younger siblings will no doubt want to be in on the action and play with the bigger children's toys too. However, the majority of accidents happen because children's toys aren't put away properly and they are tripped over – or when younger children manage to get their hands on toys designed for older children.
It's essential that you're vigilant about toy safety and that you, and your older children, keep the toys for school aged children well out of reach of toddlers and pre-school kids. Remember that many toys will have toy safety information on that tells you the toys aren't suitable for children under the age of three – they may have small parts that could cause a choking hazard.
Always take notice of the labels that give age recommendations for children's toys - some toys for school aged children could be dangerous in the hands of a younger brother or sister. When you're trying to teach your older child to tidy up their room, explain to them about toy safety and why it is that they should always clear up their toys – involve them in keeping their toys away from younger siblings. If they are like most children, they won't be particularly keen to share their toys anyway, so they shouldn't need too much encouragement!
Which Types Of Toys Can Be Most Dangerous?
Balloons It's obvious – but when your school age child wants to play with balloons, even these innocent children's toys and novelties can cause danger to small children. You can let an older child blow up and play with balloons, but always supervise them and make sure that they are kept away from the little ones, as when they are uninflated or broken, balloons can choke younger children. According to toy safety experts, more children have suffocated on bits of burst balloon or uninflated than they have on any other type of toy.
Electronic Toys Electronic toys must be properly put together, and it's a good idea to make sure that your child is supervised at least to begin with while playing with an electronic or mechanical toy – just because they are so easily misused. It's possible that if tampered with, an electronic children's toy can shock or burn your child, so explain that these toys are dangerous as well as fun! Electronic toys have to meet legal requirements for maximum surface temperatures, electrical construction and prominent warning labels, and some toys, like children's toys that have some form of heating element are recommended only to be used by children over eight years old.
You might also like...