Trampoline Safety for Kids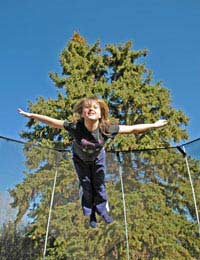 Trampolines are a popular toy with children of all ages, and they are great for exercise and fitness too. Trampolines are easy to get hold of, easy to assemble and simple to use, making them a really good addition to your garden toy collection. But children and trampolines are a combination that needs to be supervised closely to avoid the bouncing about ending in tears...
Trampoline Safety – How Dangerous are Trampolines?
The most recent figures available for accidents on trampolines are from 2002, and they show that there were 11,500 hospital visits in that year alone as a result of trampoline accidents! Accidents on trampolines at home have been on the increase, and there are more accidents on home trampolines than there are at a gym or sports hall.
Around 75% of trampoline related injuries happen if there is more than one person on it. Unsurprisingly enough, it's usually the lighter participant who will come off worse, and children under the age of six are more likely to get hurt.
Trampoline Safety - What Should I Look For When I'm Buying a Trampoline?
Buy a trampoline which has safety pads which completely cover the springs, hooks and frame. The pads should be in a contrasting colour to the mat so that children can easily spot them while playing.
Look for a model which also has safety netting as part of its design, or buy a separate safety cage. This will help reduce the chances of a child falling of the trampoline and hitting the ground.
Where Should I put the Trampoline?
A trampoline needs space, so set it up in an area of the garden which is as far away from trees, fences, and washing lines, and any other garden equipment as possible. If you have room, try to leave an area or more than 2.5 metres around the trampoline as a 'safe zone' where kids can land.
Make sure that you cushion your trampoline well – place it on an energy absorbing surface like a lawn or wood chips.
Never place the trampoline on a hard surface like concrete unless you have crash matting or a safety net.
Children and Trampolines – Rules to Enforce!
Never let more than one person jump on the trampoline at the same time, as this increases the risk of an accident.
Don't let children under six onto a trampoline unless it's specifically designed for their age and size.
Always supervise your children while they are playing on the trampoline.
Encourage children to bounce in the centre of the trampoline to avoid wobbling and falling off.
Don't let the children bounce off the trampoline when they are finished – encourage them to dismount properly.
Discourage somersaults – even though children love to show off on trampolines, somersaults and gymnastics are best saved for clubs.
Tell children to stand back from the trampoline while someone else is bouncing on it!
Don't let children use the trampoline if you see a rip or split in the mat, or if the padding has come away from the metal springs. With a trampoline, safety is essential before anyone climbs on to play.
Children and trampolines are definitely a risky mix but if you keep an eye on the proceedings they can still enjoy their toy without too much risk of an injury.
You might also like...