A Guide to Buying Plastic Toys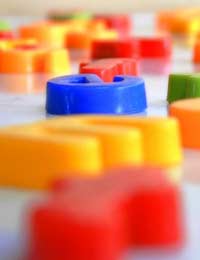 Plastic toys come in all shapes and sizes so there are bound to be lots of brightly coloured playthings that attract the attention of your child, no matter how old they are. They are durable, washable and usually pretty safe, but as with all toys there are toy safety checks to watch out for when you are buying the perfect toy for your child.
What Are The Toy Safety Checks That I Should Look For When I'm Buying A Plastic Toy?
The most important toy safety check for all toys, including plastic toys, is that they have the appropriate safety marks. Although the CE Mark is not in fact a consumer symbol, it does mean that the toy you are looking for will have passed stringent safety tests and conform with a list of essential safety requirements. If any plastic toys that you are thinking of buying don't have the CE Mark, you should avoid them because you can't be sure whether they will be safe for your child to play with.
Another toy safety check to look out for when you are toy buying is the Lion Mark. All children's toys and plastic toys with a Lion Mark on them have been produced by manufacturers who have signed up to a very extensive code of conduct governing the safety and the quality of the toys they produce. You can be sure that if your plastic toys have a Lion Mark on them somewhere, they will be of the best quality, and highest safety standards you can buy.
What Should I Check For on A Plastic Toy?
As with all toys, especially those bought for small children, you need to carry out your own toy safety checks with plastic toys, even if the toy has a CE Mark.
Don't buy children's toys with small parts for young children. Plastic toys that are not suitable for very young children will be labelled as 'not suitable for under 36 months' and you should heed this warning. Small parts on toys intended for older children can be inhaled, might cause choking or even be shoved into ears or noses.
Have a good look at any plastic toys when you are toy buying, to make sure they are properly constructed and that there are no sharp or rough edges. Plastic toys are popular because of their durability and aren't as likely as some other materials to break quickly, but as with all children's toys, you find that some are better quality than others!
When you're choosing a plastic toy, avoid any toys that look flimsy or are obviously made from thin or brittle plastic that could snap into little pieces when your children are playing with them. Plastic is a safe and durable material, which is why it's so popular, but if it does snap it can cause sharp and jagged edges that might injure a child.
Watch out for novelties such as toys that look like food. Some novelty items that you might think are everyday plastic children's toys are in fact not covered by the same stringent toy safety checks as all other children's toys, and if they are tint or have very small parts, the fact that they also look like food is a big incentive for a small child to try and eat them.
If in doubt, don't buy it!
You might also like...