How to Check Safety of Wooden Toys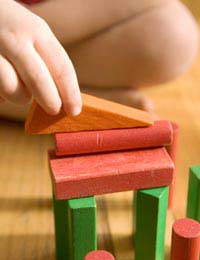 Wooden toys can be unbelievably cute, and all traditional toys are making somewhat of a comeback these days to fit in with green and environmental issues as well as the fact that they are just lovely to look at and usually durable too.
As with most toys, you should choose your wooden toys with care. Remember the age of the child you are buying the wooden toys for, and carry out a good toy safety check before you buy anything. Wooden toy safety is something you need to be aware of and check for if you want to keep your kids safe as well as entertained.
Toy Safety Check - What to Check for with Wooden Toys
Check that the toy is safe –all toys for sale in this country and in the EU should have a CE Mark on them somewhere, either on the wooden toy itself or on a label or packaging. This shows that the toy has passed the essential safety requirements that enable it to be sold in the UK, although it's not a wooden toy safety consumer mark.
Look for the Lion Mark – a sign that the toy manufacturer is a member of the British Toy and Hobby Association. Anyone who displays a Lion Mark on their wooden toys has agreed to produce toys up to a certain quality standard as well as safety requirements.
Deciding Whether a Wooden Toy is Safe for your Child
Check the wooden toy and see if the surface is smooth, or splintered. Obviously, a toy with a surface that's rough and prone to splinters is not a good idea for any child, who could catch hands or clothes on the splinters...and we all know how much children hate having a splinter removed! If you spot any splinters or rough patches on toys you already have, sand them down.
The Right Wooden Toys for the Right Age
Not all toys are made the same, and while the traditional toy you buy for an older child may result in hours of fun, younger siblings could be at risk from choking on small parts if the toys are left lying around. Always follow the advice on age warning labels, especially if the label warns that the wooden toy isn't suitable for anyone under the age of 36 months.
Storing Wooden Toys – and Wooden Toy Boxes!
You might not think about it, but remember that traditional toy boxes also need maintenance to make sure that they are safe for your child to play with.. Use a toy chest with a lid that will stay open in any position it is raised to, so that it won't fall down on your child's head or hands while they are rooting around in it.
Just to be on the safe side, also check that the box has ventilation holes, just in case someone thinks it's a great idea to climb inside it! Check the box for any sharp edges, or hinges that could pinch.
Make sure that if wooden toys have been taken outside, they are brought back indoors as soon as possible as moisture can damage traditional toys and wooden toys.
Wooden toys and traditional toys are lovely for children of all ages to own and play with, as long as the proper toy safety checks are carried out and the toys are looked after well, they should provide pleasure to your children for many years!
You might also like...
I have made solid wood toys for toddlers. The only moving parts are the wheels. They have been finished in child safe colours, certificates available from the manufacturer and the glue used to fix the wheels is not on show. I have done the tests myselfand passed all. The only thing I am struggling with is certification for the wood. I use untreated beech and maple, as do the large manufacturers. Does anyone know where or how I can get certification for the wood. My supplier can guarantee FSC status and Forest Management status but they hold no other information. Any help would be much appreciated.
Ross
- 15-Oct-19 @ 2:50 PM
Does anyone know if treated wood for use outside will pass the CE tests?I am looking at producing a garden toy. I would also welcome and ideas on paints that are approved too. Thanks
JimmyRash
- 14-Jun-17 @ 7:56 AM