Impact of Computer Games on Child Development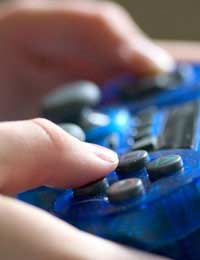 Children's computer games are as much a part of their childhood as skipping ropes and teddy bears, but experts clash about whether too much time spent on a computer or games console can be bad for child development. There is a tendency to blame sedentary lifestyles for a lot – including restricted social skills – but in moderation, are children's computer games really that bad?
The effect of computer games on children can also be positive – with the development of games that challenge children intellectually, and consoles like the Nintendo wii which even build in a certain amount of physical activity, children's computer games can be sociable, intellectually stimulating and fun.
Some of the benefits of video games are that they are a non-threatening and fun way to introduce children to computers, and some games may also help child development by improving children's hand-eye coordination and attention to detail.
How Much is Too Much with Children's Computer Games?
You have to look at your child's overall lifestyle and be honest with yourself – does he or she have lots of friends and interests outside the games console? If your child plays regularly with other children, is sociable and enjoys the company of other people, it's probable that his social skills are fine.
It's recommended that children spend less than two hours sitting in front of a screen – whether it's a TV, games console or computer. If a child spends excessive amounts of time (several hours a day, every day for example) staring at a computer screen you could find that his social skills are being neglected and it's time to take things in hand. As well as alienating themselves from other children, some research has shown that that playing video games may affect some children's physical functioning. The reported effects range from triggering epileptic fits, changes in blood pressure and heart rate to musculo-skeletal problems such as tendonitis, and carpal tunnel syndrome. However, these effects are thankfully rare. As a parent, your main concern should be to monitor the amount of time that children spend playing children's computer games, and being vigilant about the content of the games that they play.
Violent and Inappropriate Games - The Effects of Computer Games on Children
There have been numerous studies into the effects of video games and children's computer games, and the general consensus from all this research is that violent games have five different effects on children and children's development.
Playing violent games has been shown to cause:
increased physiological arousal
increased aggressive thoughts
increased aggressive feelings
increased aggressive behaviour
decreased 'pro-social helping'
The research also seems to indicate that much of the effect of computer games on children (especially the violent games intended for adults but often played by children anyway) are affected by the parents.
Children whose parents limited the amount of time they spent playing game on the computer or games consoles, and made sure that any games their child played were age appropriate, seemed to do better at school and get into fewer fights and arguments while they were there.
Educational children's computer games are more likely to have a positive effect - and it's widely believed that violence in computer games, video or other media can have a negative effect.
So, if you want your child to grow up with a healthy appreciation of video and computer games, and all they have to offer, there's no harm in giving them the run of the games console or computer sometimes. However, the general rule is – don't let the video games take over their spare time completely, and just keep an eye on what they are actually playing!
You might also like...