The Toy Safety Directive 2011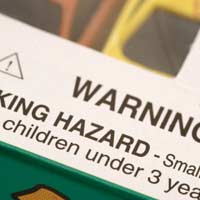 The main difference in the new European Toy Safety Directive, which in force in July 2011 is that it will widen the definition of what can be considered as a toy, so that from then on, any products which are 'designed or intended, whether or not exclusively, for use in play by children under 14 years of age' will be covered by the toy safety regulations.
It will mean that more consumer goods will face more rigid regulation than before, which includes restriction of 19 chemical elements rather than eight which are currently restricted for safety reasons in toys.
As with all new laws, there are some anomalies and grey areas which might need to be addressed. For example, while children's fashion jewellery isn't considered a toy by the regulations, fancy dress items and accessories are covered.
The EU Toy Safety Directive simply sets out a list of requirements which all toys have to comply with, and it's adopted by each individual EU member state and added into their own Toy Safety Regulations. In the UK this is the Toys (Safety) Regulations 1995. This directive will apply to all toys imported into or produced within the EU apart from the sections that apply to chemical requirements – these come into force from 20 July 2013.
Why Has Toy Safety Law Been Amended?
The main reasons for changes in toy safety legislation are due to new scientific evidence which has highlighted potential health risks from some toys and materials used in toy manufacture; the types of toys which are being produced, and the increase in the volume of toys which are being imported from outside the EU.
The new toy safety directive is also designed to harmonise the existing EU-wide standards on toy safety. Originally, things like toys' physical and mechanical properties, their flammability, chemical properties and electrical properties were covered by the legislation, but other just as important safety aspects such as radioactivity and hygiene weren't governed by safety standards.
The Toy Safety Directive (and any of the Member State regulations which come from it) sets out that the closest applicable national or international standards should be applied to any toy if there is no specific standard for it already set out in the Directive. This clause has been designed to make sure that new and innovative toys will be safe for children to use before they go on sale.
What Happens if EU Toy Safety Regulations are not Met?
If a toy is found to be unsafe (because it breaches one of the standards set out in the legislation, or is generally unsafe because of another unspecified reason, the producer (in law, this is either the manufacturer, or the first importer who brings the toy into the EU) will be guilty of an offence under the Toys (Safety) Regulations (or the equivalent law in the EU member state).
In the UK, a producer can argue that all reasonable steps were taken to ensure the toy's safety by the producer – called due diligence - to avoid being prosecuted, made to pay a fine or even possible imprisonment.
If a toy is discovered to be unsafe, it's then withdrawn from the market, and all EU member states' authorities are notified through the RAPEX alert system.
Consultation on the Toy Safety Directive
In the UK, the Department for Business, Innovation and Skills has been actively seeking views on ways that the Directive should be implemented. In particular, they are asking people's views about the way the Draft UK Regulations have been structured, and looking for any information to help address unknown areas within the Impact Assessment. If you're interested in taking part, the consultation is open until April 2011 on the 'consultations' page of the Department for Business, Innovation and Skills website.
You might also like...
Hi, /i'm starting a business making dummy clips and keyrings I believe both of these items fall into fashion so are not required to go through toy directive can this be confirmed. L have tried stress tests from home and have had confirmation from the manufacturers that there is no chemicals involved and have created a disclaimer card advising a warning and cleaning maintenance. Can you advise if this is satisfactory. Thanks Stacey
stacey
- 12-Jul-19 @ 8:13 PM
Can any one help?? I'm after some solid evidence that i can provide which proves without a doubt a TV remote control cannot, and should not be tested against the EN 62115 toy safety standard, I have already provided evidence that the TV remote has passed the necessary safety requirements for a TV and comes with the CE mark. As far as i am concerned following the directives, and harmonized standards this should not be done.
Rich
- 30-Jan-19 @ 9:46 AM
Hi there, I am looking to make up some sewing kits for children, using pre-holed animal felt shapes, embroidery thread and plastic needles. They would be aimed at ages 6+. I currently run sewing classes for children so I know that this age is appropriate. I want to sell them but I need some advice about where I could get them made up, checked for safety and packaged. Can anybody advise me please? I am based in London. Many thanks.
Bunty
- 24-Mar-16 @ 11:29 AM
hi I'm starting up a business selling hand made head bands and clip, they will be mostly for children, as far as I'm concerned they r not a toy, but I just wanna be 100% sure, also if I don't need the ce on the product I'm wondering if putting a disclaimer on the products may be a idea, and if so has any one got any idea what sort of disclaimer I could put on please
suzey
- 25-Feb-16 @ 8:26 PM