Children's First Real Computers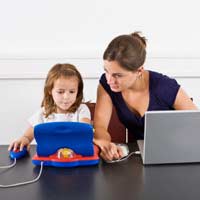 Children love to copy what they see their parents doing, so when they see mummy or daddy on the computer, they want to join in the fun. Although there are computer based toys and electronic gadgets suitable for very young children, even babies, some research has suggested that a proper computer may not be suitable for children under the age of three.
This is because children up until the age of around three, tend to learn about the world around them through using their bodies: eyes, ears, mouths, hands, and legs. They need to be able to move around and so sitting in front of a computer may not be the best choice for them. They need to be active, learning to crawl and walk – developing speech and making friends.
At What Age Should I Introduce my Child to Computers?
By the time your little one is around three or four, they are probably ready to be introduced to the world of computers. Toy and computer manufacturers have capitalised on the IT revolution and children's desire to copy their parents, and have been bringing out child-ready laptops for some time now.
There are some really cute 'baby laptops' and computers suitable for pre-school children – V-Tech are one manufacturer who have come up with child-friendly features such as colourful accessories, easy to use kid-proof computer keyboard, and software that will help introduce very young children to learning activities in maths and language, music and games. Some versions are based on popular children's characters like Winnie the Pooh too! Fisher Price are another manufacturer who cater for the children's computer market.
For slightly older children who want to be top of the class, there are computer ranges such as Advent K Laptops which are specifically designed to appeal to children. They usually contain child-friendly details such as interchangeable screen covers, parental controls to avoid web surfing onto unsuitable sites, and lots of learning software. The advantages of buying a computer that's specifically designed for a child are obvious – they make the children feel grown up, provide lots of learning opportunities, but don't present the same problems as a full-on grown up laptop would.
Children and Computers – What Can I do to Help?
Young children love to play with anything new and exciting, and we all know to our cost that kids like pressing buttons to see what they do. Most parents can tell tales about how their children mastered the remote control at a very early age, so it's no surprise that children seem to pick up computers so quickly.
Having said that, a computer can be a daunting object when you are still pre-school age, and so as a parent you'll need to be around them when they are learning, so that they don't get frustrated with things and end up pressing every button at once!
It's best to leave slightly older children alone to figure things out for themselves, with perhaps the odd word of encouragement from across the room. Research has shown that giving the kids minimal help, rather than standing over them, however tempting, will make them feel more capable.
You might also like...