Toys Suitable for Toddlers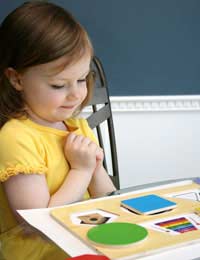 Toddlers are into absolutely everything, and that's because they are in the process of developing their large motor skills and hand eye coordination rapidly. They love to move things, pull and push their ride on toys, open and close toddler toys and any toys (like wooden toys) which make noises.
What Types of Toddler Toys Will my Child Love?
Blocks
Wooden toys or plastic toys that come in block shapes are all time favourites with little toddlers who like stacking, building and banging them together! Choose large, plastic, vinyl or cloth blocks with rounded edges and corners for younger toddlers, and then as your child gets older they might like wooden toys and blocks too.
Shape-recognition toys These are great toddler toys, and are usually bright wooden or plastic shapes which can be slotted through the matching holes in the toy. These toys help toddlers to develop eye-hand coordination and to get to grips with shapes and sizes.
Role PlayYour child's imaginative and role play skills are starting to take shape, and any toddler toys involving role play will fire up their imaginations. You might have already caught your little one talking to their imaginary friend! Young toddlers love to pretend at grown ups, so pretend kitchen and garden toys will go down well, as will tool sets and anything that lets them copy mum and dad.
Puzzles These will also help to build a child's eye-hand coordination, and other motor skills. Don't pitch the level of the puzzle too high or you will end up with a frustrated toddler, but find a puzzle with a few pieces, made of plastic or wood to begin with.
What About Ride on Toys and Push Along Toys?
Ride on toys and push along toys are great for toddlers who have mastered the art of walking. Don't buy a ride on toy unless your toddler is able to climb on and off without your help, and can get around on the toy quite happily alone.
When you're choosing a ride on toy, don't choose one with pedals to begin with as they can progress to this level later. Make sure it's sturdy, can support your child's weight and the seat is secure.
Make sure that the handles on push along toys are covered, and make sure that smaller toddlers are supervised when they play with push along toys which come with smaller accessories – check the age warnings to make sure they are suitable for children under 36 months, and if not, avoid letting your toddler play with them.
Cars and Toddler Toys with Wheels
Toy cars and garden toys are great for getting the kids outside, and there is a myriad of exciting toddler toys for them to have fun with. If you give your toddler a toy truck and a sandpit, he or she will be happy for hours...also look out for functional toys such as kiddies' fire engines, lorries, buses and even cement mixers!
Look out for sharp edges and make sure than any toys that are likely to be played with outside are waterproof and rustproof, too. Check that they are suitable as toddler toys (the appropriate age labels) and check them over for stability, ease of movement, and secure wheels.
You might also like...