A Guide to Buying Imported Toys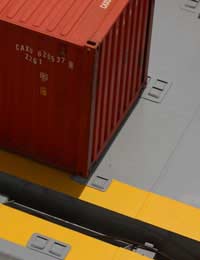 There have been several scares concerning the safety of some imported toys for children in recent years, so it's hardly surprising that parents are still somewhat wary about buying them.
The truth of the situation is that around 80% of the toys that you'll find on sale in toy stores across the UK have been imported, and a majority of those have come from China, the country that seems to strike fear into parent's hearts when there's another toy safety recall.
So, the fact that most of the recalls are from China does go hand in hand with the fact that the majority of imports come from Chins in the first place, but there are still things that you can do to minimise the risk when buying imported toys.
Imported Toy Buyers Guide
Look out for CE Marks: All imported toys (and all toys made in the UK) have to carry a visible CE Mark, which can be on the toy or in some cases the packaging if the toy is very small. Either way, all toys for children are protected by this legislation so make sure that you don't buy anything that doesn't have the proper safety mark. Although the CE Mark is primarily there to show the authorities that a toy has been manufactured according to strict safety standards, not the parents, if a toy doesn't have any CE Mark anywhere, don't even think about buying it for your child.
Age Suitability - a toy which could potentially be dangerous to young children, for example if it has small parts which could cause a choking hazard, has to display an age restriction warning indicating that the toy should not be given to a child less than three-years-old. This shows that the toy has passed the choking hazard test. Cheap imported toys may not have been tested for choking hazards, and could put small children and babies at an unacceptable level of risk from their toys.
Cheap Toys can be Dangerous! Don't, whatever you do, skimp on safety when buying toys for children. If you buy a cheap import, it's more likely that it won't conform to safety standards, and even if there is a CE Mark on the toy you could even find that it's not legitimate. Buying cheap toys that don't conform to safety standards could expose your children to risks such as lead in paint.
What Are The Risks of Buying Unsafe Children's Toys?
Some of the risks of unsafe toys are well documented – others are rarer and less well publicised. It's worth being aware of the potential dangers before you buy anything you're not sure of. For example, in one safety recall, four million Chinese-made toys were recalled after they were found to contain a chemical that, if ingested could have turned into the date rape drug GHB, which can cause seizures and even coma. Two children in America actually fell into a coma after coming into contact with these toys.
This type of reaction is rare, but it's more common for dangerous imported toys to be recalled because they are found to contain potentially harmful levels of lead.
Responsible toy importers have to comply with European law and will display the right safety warnings. Obviously, some products can slip through the safety net, and there will always be recalls. But the early warning system means that at the very least if there is a problem with an imported toy (or otherwise) if it's part of the system, there will be a fast response and the toy will be withdrawn from sale as soon as the authorities find out about it.
You might also like...