Best Selling Toys from the 70s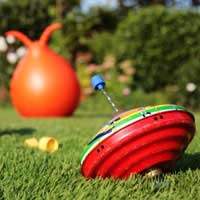 How well do you remember your childhood? If you grew up in the seventies, it was a halcyon era for kids, when we could still play out in the street without being stressed about all the things that kids – or rather parents - are stressed about in the noughties.
Toys in the seventies were simple but many of them have survived three decades later to inspire and delight children who appreciate the simple pleasures of a bouncy toy or musical instrument with Rolf Harris' face on it.
Outdoor Toys From the Seventies
Who could forget the Space Hopper? Garish bright orange bouncy things with a face on the front, they were seen all over the UK – although many people don't know that the original space hoppers were blue, not orange. Although Space Hoppers are trying to make a tentative comeback, their lack of hi tech application probably means that children won't be too enamoured of their bouncing capabilities for long, unlike simpler souls of the seventies who had endless fun falling off of them...
The Raleigh Chopper was the crème de la crème of seventies bikes, and if you didn't have one, you wanted one. This iconic different size wheeled design was actually inspired by the design of a Dragster. Choppers were ubiquitous in the seventies, although when the more practical and functional BMX bikes took over in the eighties, the chopper was relegated to the back of the shed.
Indoor Toys From the Seventies
The seventies were very creative, although sometimes the application of the creative impulse was made harder with the basic design of the toys that we were expected to use. Imagine your delight on finding a much longed for Etch a Sketch under the Christmas tree?
Still made to this day, whoever came up with the idea of an Etch a Sketch toy was a genius. First manufactured in the 1950s, everyone had one of these in the seventies...although the things were probably limited in their capacity for art. You twiddled a left knob and a right knob and magically made pictures appear on the screen that could be erased with a shake of the Etch a Sketch. As many a mean brother found out to their glee after you'd created yet another very square picture of a house.
The Big Trak could technically be used outside but was probably best used indoors to scare sleeping cats. The toy vaguely resembled some kind of tank, and could be programmed with a key pad on the front to go left, right, forwards, backwards and shoot things. Which is where it came in useful for frightening cats. It had very little practical use, but was quite noisy, annoyed parents and was also quite good at tripping people up.
An absolute must for a child of the seventies was a Stylophone. Also very useful for annoying parents who were trying to watch the news, this cute little toy was intended to be a sort of mini keyboard, which you would play tunes with using a small stylus that came with it. Cleverly marketed by Rolf 'can you tell what it is yet' Harris, the Stylophone was a toy sensation...but with limited creative potential and quite possibly one of the most irritating noises ever, most Stylophones were consigned to toy box history fairly swiftly. Much to parents' relief.
You might also like...