Toy Ideas for Active Kids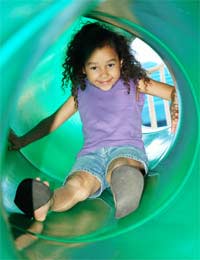 With a constant media spotlight on childhood obesity, which is often blamed on the fact that most kids these days have all the toys they need to keep them indoors, you might want to try and buck the trend by introducing outdoor and activity toys into your child's repertoire.
Child psychologists all approve of active play – playing on outdoor activity toys like a climbing frame for example helps children to develop balance, co-ordination, strength and agility.
Their behavioural and intellectual development also gets a boost when they are solving problems, exploring, using their imagination and plotting to build secret dens, climb trees and form 'kids only clubs' where they can socialise and play.
So, how do you make sure that you choose the right toys to keep your child active and safe playing outside? What can you get that won't be tired of or grown out of before the end of the school holidays?
Choosing Safe Toys for Active Children
Make sure that all outdoor activity toys you buy have passed the European Safety Standard EN71. You can check for symbols such as a Lion Mark, or the CE Mark. Read the literature and see whether the toys are independently tested for misuse, stability and material strength. The more information there is about safety, the more likely it is that the manufacturer takes their obligations seriously.
Part 8 of Safety Standard EN71 relates to outside play, and all outdoor activity toys should have been tested to make sure that they comply.
Think Long Term With Outdoor Activity Toys
If you're looking for value for money, pick toys for children that can be added to and expanded as they grow. These types of outdoor activity toys are cost effective, for example some climbing frames are suitable for small children at low height, but as your child grows, the frame can grow with them and you can add accessories which make it even more fun. This way they needn't grow out of their activity toys – but they grow along with them!
Making Outdoor Toys Last Longer
You want activity toys to be durable, and active children will no doubt test most outdoor toys to the limit at some point. So take care in choosing toys which are made of long lasting materials.
Steel outdoor toys are best made from a high quality galvanised steel, while wooden climbing frames and swing quality can depend on the type and composition of the wood used - square cut timbers will be less likely to crack and splinter than round wood, for example.With plastic activity toys, you should always check the thickness of the plastic and see whether it has any ultra violet filters to avoid the cracks which can happen when it is exposed to daylight.
Hints and Tips on Good Toys for Active Children
Climbing frames - look for sturdy, variable frames that can be adapted as your child grows.
Swings –The best type of swing for active children should have a strong tubular steel frame – again which can be adapted as your child grows. For little ones, choose a high backed seat, and then it can be swapped for a more 'grown-up' swing later on.
Slides - look for moulded plastic treads and make sure the slide has grips and safety hand rails.
Sit and ride toys – kids always like to bomb around on activity toys - toy cars, tricycles and tractors that have secret storage places – especially if they can make noises with them too. For really small children, avoid pedals as they can be hard work for children under the age of two.
Sandpits – lots of potential for mess – and fun. Find a pit that has a lid, and make sure you keep it well away from the house unless you want sand in the carpet. Some sandpits nowadays even have built in seats!
Paddling pools – active children love paddling pools. It goes without saying that children and water can be a bad combination so make sure they are well supervised.
Scooters - a scooter should be robust with a sturdy frame and wide wheels.
Play tents and tunnels – these can be hours of fun and give kids a safe place to play outside.
Keeping active children occupied can feel like hard work, but with a bit of research and imagination, the toys you pick when they are small will keep them safe and happy for years to come.
You might also like...