Toy Ideas for Creative Kids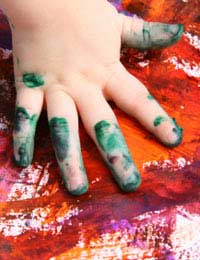 If you're blessed with a creative child, it's a skill that you'll probably want to nurture – after all, your little darling could turn into a musical genius or a candidate for the Turner Prize one day!
To help encourage your child to use their creativity, there are plenty of creative toys, art and crafts aids and games that creative children will enjoy. It's just a matter of finding the creative toys they enjoy the most.
Creative play helps children's development in all kinds of ways – it can encourage motor skills, intellectual and language development - and if it's enjoyed with friends, some creative play can also help with social development. Make sure that you include drawing, painting, modelling, cutting and sticking in the play repertoire, and don't forget that all children love to cook, too.
Drawing and Painting Toys for Creative Children
All creative children love to make a mess with paints – and they can start young with specially designed finger paints and colouring kits for two years old and upwards. It doesn't have to stop there – as your creative child gets older, try giving them water colours, a painting set and easel, and even progress to oil paint as they become proficient at painting.
If drawing is more their thing, there are plenty of toys for children with aptitude – or not! Child friendly non toxic pen and pencil sets are safe and fun to introduce from an early age. Older children will enjoy the freedom of pencil sets that can double up as watercolour paints.
Watercolour pencils are fun and flexible – creative children can use them on their own like ordinary pencils or with water to create different effects.
If your child loves to colour but isn't overly artistic, colour in posters are a bonus, and teach good hand-eye co-ordination at the same time.Mix it up a bit with chalks and crayons to see what your child loves to do the most! Toys for children such as T-shirt printing packs will appeal to the creative fashion designers in waiting!
Creative Toys for Children to Make Things With
Little hands love to squish things and mould things so play-doh and other similar toys for children will be a big hit with all abilities. You can even get play-doh with aromatic oils nowadays, so as they are making their creation, they are benefiting from aromatherapy!
The sky is the limit when it comes to kits and materials for creative toys for children to make things with. Junior carpentry sets will appeal to girls and boys alike – and they could make a selection of different badges for their friends and family with a children's toy badge making kit. Little girls might enjoy experimenting with jewellery making kits, too.
If your creative child has the bug for making things, you could even try introducing them to knitting and sewing toys for children, as there are plenty of children's toys that promise to teach children how to do just that, and it will give them a sense of achievement to come to you with their very first scarf or hat, after many hours of dedicated effort! The only problem is that they might also expect you to wear it...
Creative Toys for Children with Vivid Imaginations
Creative children don't have to be good with their hands – why not encourage the drama queens and kings in waiting to express themselves with puppetry and dressing up? If you want to splash out you can but a puppet theatre complete with puppets – or on the other end of the scale, creative children will love to make their own puppets and then put on a show for you.
Musical Toys For Children
Encourage the musician out of your child with toy instruments and you may come to realise that your creative child is actually a budding musical genius! Start with toy guitars and pianos – or you could introduce them to a tambourine, xylophone or recorder as start off musical instruments. If your child starts to show promise, you can graduate to something a little more grown up!
You might also like...